Greens Plus
Greens Plus Capsules (240 count)
Our Greens Plus Original Superfoods Veggie Capsules provides food source vitamins and minerals, in their biologically complex form, as nature intends them to be.
Supplies high concentrations of the very building blocks of life – RNA, DNA and Amino Acids – absolutely essential for the health of all 32 trillion cells in the human body.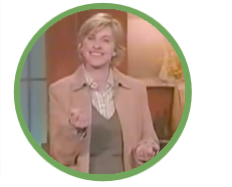 Get Your Greens with Ellen DeGeneres'
Favorite Capsules!
A synergy of 29 nutrient-rich Superfoods, Sea Vegetables and High-Energy Herbal Extracts.
One serving of Greens Plus delivers more essential vitamins, organic minerals, amino acids, enzymes and antioxidants than 5 full servings of fruits and vegetables.
The human body is a complex network of millions and millions of cells. In every cell, thousands of chemical reactions are continually taking place. These reactions depend upon a diet rich in vitamins, minerals, and enzymes.
When properly supplied, these cells produce lots of energy and give the body and abundance of vitality, endurance and strength. The modern American diet however, high in fat, cholesterol and sugar, actually depletes the body of essential nutrients. Superfoods like those found in Greens Plus help to support the body's cells for optimum energy, superior well-being and peak performance.
Greens Plus CONTAINS NO yeast, salt, egg, coloring, flavors, irradiation, gluten, preservatives, MSG, corn or dairy products, and NO ADDED sugars, fats or oils.
Greens Plus Superfood MultiVitamin Blend (Organic Alfalfa Grass, Organic Wheat Grass, Lecithin, Organic B- Complex, Organic Red Beet), Greens Plus Sea Vegetable MultiMineral Blend (Organic Spirulina, Algea Plant Calcium, Organic Chlorella, Dunaliella Salina Algea, Organic Fulvic and Humic Acids, Organic Dulse), High-ORAC Antioxidant Fruit Extracts (Organic Apple Fiber, Camu Camu Bery Extract, Grape Seed Extract, Bilberry Extract), Standardized Herbal Extracts (Astragalus Root Extract, Milk Thistle Seed Extract, Siberian Eleuthero Root Extract, LicoriceRootExtract, Green Tea Leaf Extract), Dairy-free Probiotic Cultures (L. Acidophilus, L. Casei, L. Plantarium, L. Rhamnosus, Bifidobacterium Breve and Longum with Fructo-Oligosaccharides)
Other Ingredients: Silicon Dioxide, Veggie Capsule.